Touchpad Scroll not Working
If side scrolling or two finger scrolling doesn't work on your touchpad it's time to install a proper software driver.
There are only few manufacturer of touchpad hardware, most known are Synaptics, Alps and Elan. But many computer manufacturers use different vendors of hardware even for the same model of notebook!
So it is hard to understand what software driver is required for the installed hardware. Moreover, disc with drivers that come with computer can be obsolete or non-compatible with operating system.
Latest, or at least last supported, drivers can be downloaded from web sites of computer manufacturers. Find the support/download area for your notebook at the official website. Download latest drivers for touchpad device and install it on your laptop.
If there are drivers for different touchpad vendors, download all of them. Try to install all touchpad drivers one by one till the scrolling start working.
Useful tool for your Touchpad
Here is a special program that automatically disables the touch-pad while you are typing a text to solve the jumping cursor problem in Windows.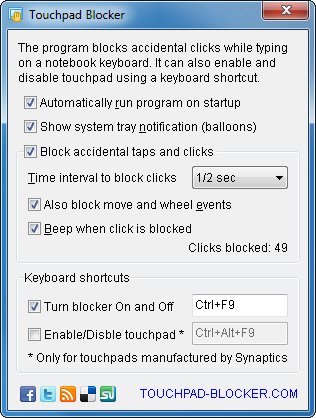 Touchpad Blocker doesn't turn the touchpad off, it just disables clicks for a small period of time if some key was pressed.